Our Nature Trail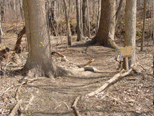 Click for ways to share nature with your child
Science is all around!
Indoors: Includes the pet center, indoor plants,the weather center ,the bird watching center and the sensory tables.In the late spring,summer and early fall we add the butterfly center to this list.The sensory tables may be filled with water,sand,soil or other natural materials to provide tactile experiences .Scoops,shovels and sifters are added to foster experimentation and discovery.We provide microscopes, magnifiers and other tools to enhance children's experiences.
Children are also welcome to bring in any found or natural items to share at the exploration table.
Outdoors: Includes the gardens and our nature trail.
Our gardens encourage teamwork and cooperation as the children work together toward common goals.
We observe seasonal changes; participate in planting, cultivating and harvesting what we grow.
We are explorers! We maintain, hike and play on our nature trail in all seasons.
We observe and learn about the many species of local birds, animals and insects that inhabit our garden and woodland trail.
Our hikes enable children to use their senses to learn about the world around them.
Every day there is something new to explore! Science is always happening!
The Playground:
There are climbing apparatus for children to hone their gross motor skills.The playground also has an area for outdoor digging .We provide materials that encourage experimentation and discovery.
Our Neighborhood:
Our class visits the Ender Hall Greenhouse and the Hotel/Restaurant Program Kitchen on a regular basis. We also vist the Mailroom to check for letters from our pen pals. We'll always leave a note to let you know where we are.
The Language Arts Centers:
Encourages experiences in oral and written language.
The Cozy Corner is a comfortable place for children to choose from a wide variety of multi cultural fiction and nonfiction books to look at independently, to share with a friend or to have read to them by a teacher.
Puppets, flannel board equipment and stuffed animals are available and encourage children to act out stories, songs and life events.Dramatic play props may include cookbooks,road signs,clip boards for writing and other items to encourage emergent literacy.
Markers, crayons and pencils are available for children to engage in experimental writing.
Dictation helps children make the connection between the spoken and written word.
Children are always encouraged to express ideas and feelings. Books and words are everywhere in our room!
The Computer Center:
Provides children with hands on experience using technology. Educational CD roms can be used independently or cooperatively.We are connected to the internet and ,together with the teachers,children use this technology to research topics and find activities related to the curriculum. We communicate with our pen pals via e-mail and participate in Internet Based Learning Projects . We use our word processing program in writing activities. Children also use problem solving skills when they participate in activities related to web page creation.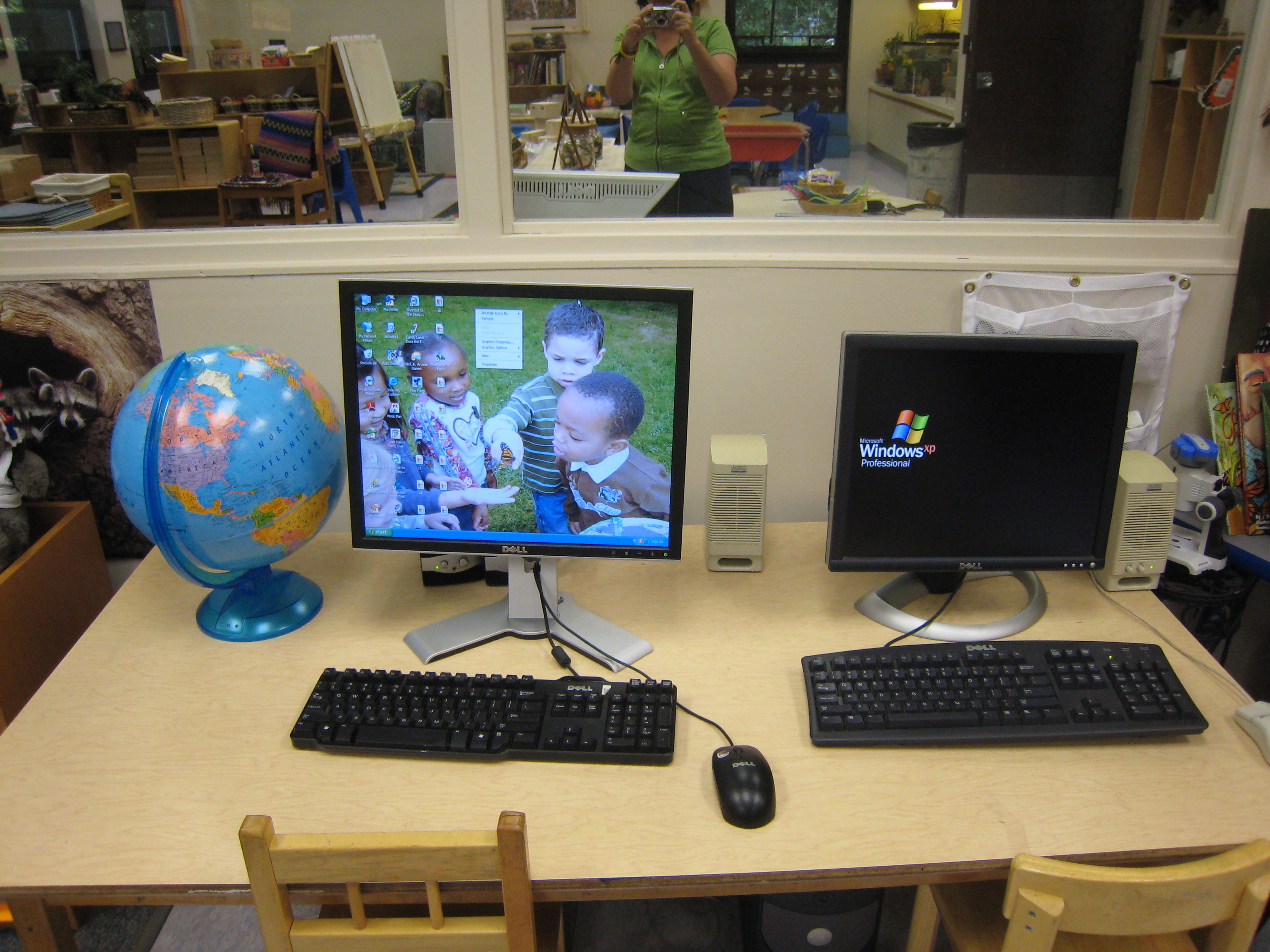 The Math Center :
Offers opportunities for sorting, classifying, ordering, counting , patterning,estimating and seriating. Children graph ,count and measure. These experiences help lay the foundation on which other mathematical concepts can be built.
The Manipulative Center :
Offers children the opportunity to develop fine motor skills. You may find us stringing horse tail grass necklaces,matching acorn caps to acorns or using tweezers to manipulate items found on our nature hikes.
TheWoodworkingTable:
Children experience a sense of accomplishment as they use real tools and safety equipment to measure, file, hammer and nail. Fine motor skills and math concepts are used as children build a variety of useful as well as creative items.
The Block Center:
Provides children the opportunity for dramatic play, cooperative play, problem solving and building math skills.
The Dramatic Play Center :
Changes each month with our theme. It may be set up as a home one month and a forest the next.It is a place where children can use a variety of props to use creatively. Let's pretend!
Music and Movement:
Is not limited to children's songs and tapes. Children are exposed to a wide variety of musical styles from around the world. Activities encourage creative movement and free expression.
See your child's work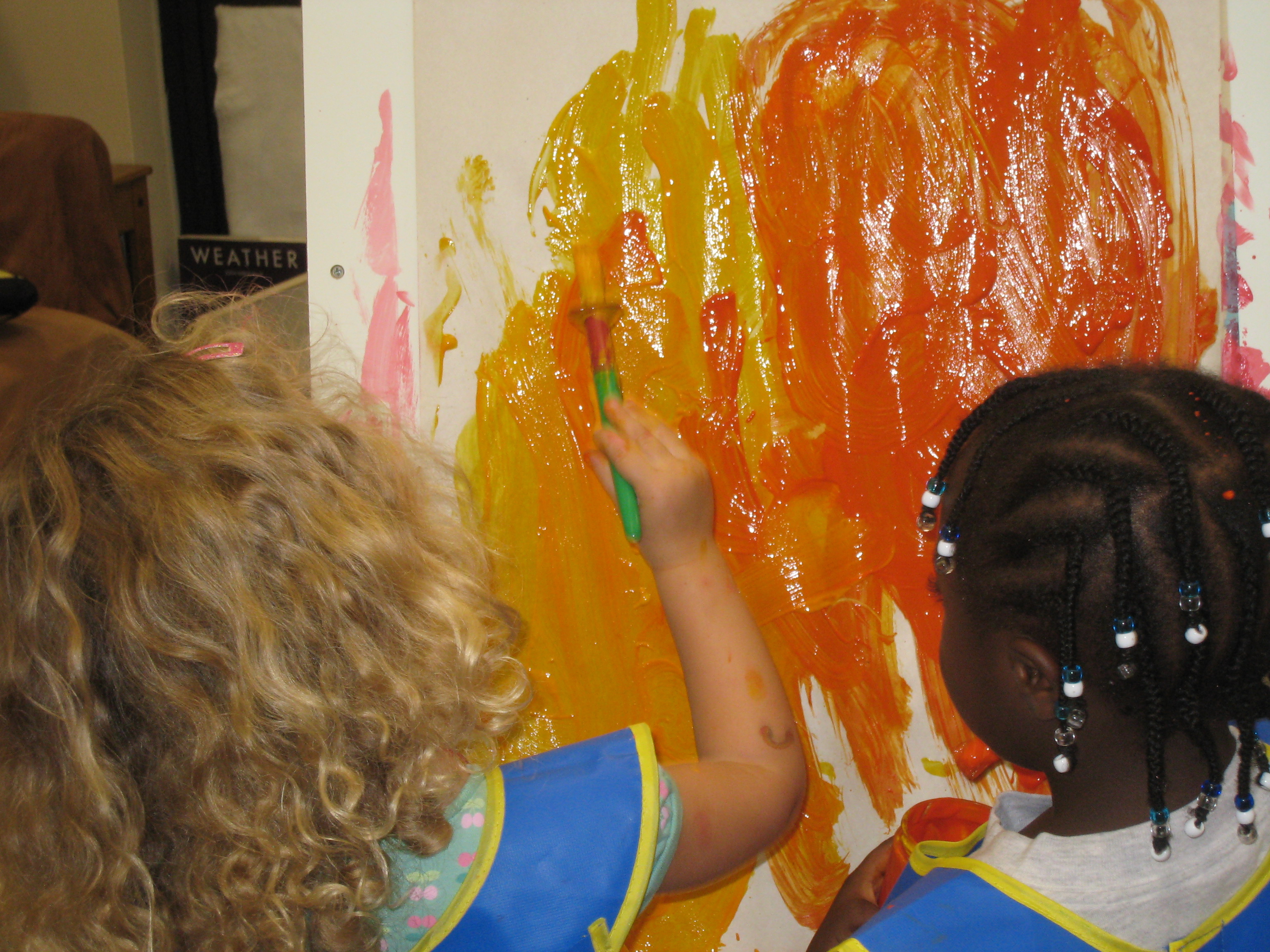 in the Gallery
The Art Centers:
Offers children the opportunity to express themselves creatively using a wide variety of equipment and materials including easels, paint, glue, recycled materials, natural items and clay. Children are encouraged to express themselves freely.We value the creative process over the end result. Remember.. Creativity is very messy work. Be sure your child is dressed for a mess. :)
Share in the experience

of our Monarch Project
Social Studies/ The Monarch Project Center:
Is a place where we will use and display materials related to this yearlong experience. To learn more click on the Monarch Page.
Ask your child to give you a tour of our room!